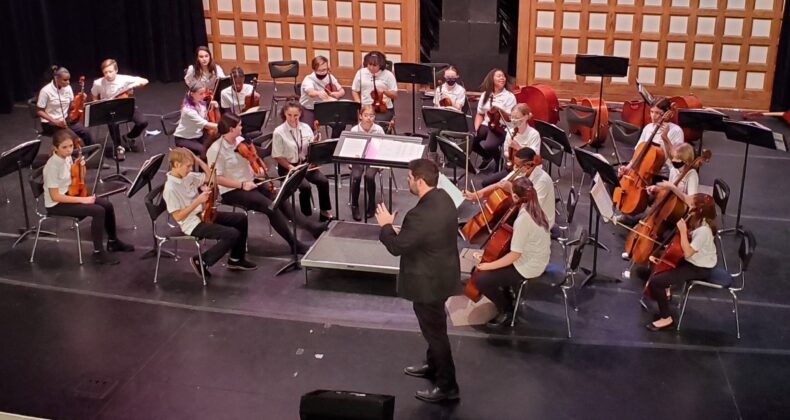 McKinley STEAM Academy students have the opportunity to participate in orchestra.
Lessons
Each student is required to complete the corresponding knowledge chart for each quarter. Every quarter they will go back to developing until they finish the knowledge chart for the new quarter. There are nine lessons per quarter, and each knowledge chart is designed to take approximately five lessons to complete. Students who attend their lesson every week and practice 20 minutes each day will finish their knowledge charts, be successful, and find joy in music!
Lesson attendance
Students will leave another class to attend lessons. It is expected that learners practice 20 minutes each day. That is the expectation. More is welcome, but too much may lead to burn out. Students need encouragement to work and improve, and they will.
***Learners who do not have instruments at home may practice in Mr. Mnayer's room whenever it is convenient. Please reach out for accommodations.
Lesson grading
Lessons are graded on an insufficient/developing/proficient/exceeding basis. Students are expected to complete their knowledge chart every quarter. They will be developing until they are done with the current quarter's knowledge chart. Once a student finishes the chart, they will be proficient. If they finish before the end of the quarter and move on to the next quarter, they will be exceeding. To earn an exceeding, students need to show initiative in moving to the next knowledge chart.
Should students not finish their knowledge chart for the quarter, they will be insufficient until they finish it. They will then be developing until the current quarter knowledge chart is complete. This system is designed to encourage practice and work ethic to keep up with their learning.
Solos will also go with lessons. Students should always have music to perform. As a musician, we want to give others the gift of our music, so music is provided to make that easier.
Lesson emails
The weekly emails Mr. Mnayer sends out are progress reports, and to notify if students missed their lesson. If there is a grading error, please reach out! Communication is key to a student's success.
Excellence is not given, it is earned. Expectations are high for McKinley orchestra students, but the product of this work will be worth the investment.
---
Expectations
Rehearsal
The basic requirement for rehearsal is to participate and learn. Everything students are asked to do, whether that is to play their instrument, a game, or complete a worksheet, is all centered around student learning. At the end of each rehearsal, the entire ensemble grades themselves using this scale, and is graded accordingly as a class. These scores are used to work toward 'game' days, where we play music games, watch movies, or play Switch.
These are the behavior expectations for rehearsal. If a student is disruptive, or is refusing to participate, they will follow the three-strike policy.
Exceeding: Listen carefully, follow all directions, play when asked, raise your hand, respect others, watch the conductor, use kind words, have fun together, clean the room
Proficient: Listen most of the time, follow directions, play most of class, raise your hand, respect others, mostly watch the conductor, use kind words, help each other, clean our own area
Developing: Listen some of the time, follow some directions, play some of class, kind of raise your hand, do not respect others, sometimes watch the conductor, use unkind words, help each other some, do not clean up well
Insufficient: Need many prompts, do not follow directions, do not play, talk out of turn, do not respect others, rarely watch the conductor, use unkind words, do not help each other, do not clean up
Lessons
Lessons are the crux of any quality orchestra. In order for us to be successful year after year, lessons need to be attended, encouraged, and practiced for. This will ensure individual growth, as well as ensemble growth.
Lesson attendance
Students must attend their group lesson every week and practice outside of the school day to be ready to present their music. Students must meet the following criteria:
Be on time on their own
Have their instrument
Have their materials (lesson log and lesson book)
Be prepared
Lessons are where the learning happens and where students are taught weekly one-on-one and issues are fixed before they become bad habits.
While this seems difficult, students are absolutely capable of being independent and building a work ethic. If those two things happen, McKinley orchestra will be extraordinary.
Lesson materials
Students must bring their lesson log and/or solo, and the book will be supplied. Students should keep their lesson book at home.
Practicing
Students are expected to practice 15 minutes every day, minimum. Anything more will be beneficial, but too much can cause burnout.
Behavior conduct code
The orchestra program follows a weekly code on behaviors that are not otherwise explicitly addressed. A student's warnings are renewed each day; they do not carry over. This policy is in effect for behaviors such as:
Forgetting an instrument—renewed weekly
Forgetting a knowledge chart
Talking
Phones*
Tardies
Others​
The behavior conduct code will be enforced on a per-day basis as follows:
First warning: Conversation, no consequence
Second warning: Email home
Third warning: 10 minute detention (served within three days), email home, minor referral
Fourth warning: 30 minute detention (served within three days), email home
Fifth warning: Removal, major referral, call home
*Phones will be treated slightly differently. If it is seen out of pocket or heard for whatever reason, other than asked for, it will be taken. This is per-week.
​Strike 1: Mr. Mnayer's for class, goes in the box
Strike 2: Mr. Mnayer's until the end of the day in a safe place, email home
Strike 3; Mr. Mnayer's until a parent comes to get it, student call home, minor referral
Bows and rosin
Bows are required for our instruments to play long, sustained notes. In order to do this, our bows need to be tightened to the point of taught, but the stick should always bend towards the hair. They need just enough rosin to grip the string, but not so much to seem chalky. Bows must be loosened after every practice. If a bow does not tighten, the hair is stretched from being stored tight.
​
I supply rosin on the piano during class. Students may get up to use the rosin, and return it to the piano. Rosin must not be taken to, or left on stands.
---
Private Teachers
All strings
Cedar Rapids Symphony School
Harmony School
319-540-7798
Orchestra Iowa School
319-366-8203
Joe Mnayer
319-230-6059
mnayer35@gmail.com
Violin
Kelly Moritz
319-396-3889
134klmusic@gmail.com
Hannah Van Deusen (Harmony School)
319-213-6401
hannah@harmonycr.org
Beth Hoffman
margueriteviolin@gmail.com
Mike Hall (Symphony School)
mcdlhall02@msn.com
Brenda Cerwick
brendacerwick@gmail.com
John Schultz (Schultz Strings)
319-895-8484
john@schultzstrings.com
Viola
John Schultz (Schultz Strings)
319-895-8484
john@schultzstrings.com
Jessica Altfillisch (Harmony School)
319-533-0708
jessica@harmonycr.org
Brenda Cerwick
brendacerwick@gmail.com
Bass
John Hall
319-551-7659
johall@coe.edu
---
Key Contact